The Dytallix Mining Company is a company that mined seven uninhabited planets for the United Federation of Planets. At least one of these planets, Dytallix B, was long-deserted in 2364. It is unclear if other mines are still active. (TNG: "Conspiracy")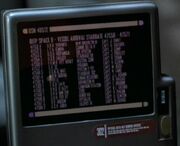 In a viewscreen chart showing Deep Space 9's arrival roster (

DS9

: "

Whispers

"), it depicted the SS Oregon having departed "Dytallix," in 2370, but is unclear which of the Dytallix planets it could have been, unless there was no need to specify (as all but one could be defunct).