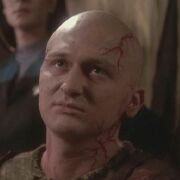 Dylan Haggerty is the actor who portrayed Epran in the Star Trek: Deep Space Nine episode "The Quickening".
He has appeared in many popular feature films including Con Air, The Postman and The SpongeBob Squarepants Movie. He has also had guest-starring roles on television programs including 24, Deadwood, The Shield, The X-Files, Chicago Hope, and Mad About You.
External link
Edit
Ad blocker interference detected!
Wikia is a free-to-use site that makes money from advertising. We have a modified experience for viewers using ad blockers

Wikia is not accessible if you've made further modifications. Remove the custom ad blocker rule(s) and the page will load as expected.