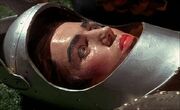 A dummy or mannequin was a life-sized model of a Human used for various purposes.
In 2266, James T. Kirk referred to a particular puppet, which he initially believed to be Balok, as "a dummy. A puppet of some kind." (TOS: "The Corbomite Maneuver")
In 2267, Hikaru Sulu compared a Black Knight that had just slain Leonard McCoy to a dummy. (TOS: "Shore Leave")
In 2366, while subduing a hologram of William T. Riker, Reginald Barclay referred to the officer as "a pretty mannequin in a fancy uniform." (TNG: "Hollow Pursuits")
Also that year, when shown male android Data by Kivas Fajo, Palor Toff mistook him for a mannequin. (TNG: "The Most Toys")
In 2373, The Doctor referred to other holograms of famous people as "Automatons, mannequin simulacra." (VOY: "Darkling")
External link
Edit
Ad blocker interference detected!
Wikia is a free-to-use site that makes money from advertising. We have a modified experience for viewers using ad blockers

Wikia is not accessible if you've made further modifications. Remove the custom ad blocker rule(s) and the page will load as expected.