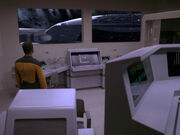 Drafting Room 5 was one of several large drafting rooms for starship design, testing and construction at Mars Station, part of the Utopia Planitia Fleet Yards.
Much of the Galaxy Class Starship Development Project was based out of drafting room 5, including the majority of ship construction, design work and system model tests; in particular the work of the Theoretical Propulsion Group. (TNG: "Booby Trap")
Drafting room 5, along with Dr. Leah Brahms, was recreated on the holodeck of the USS Enterprise-D in 2366. It served as a productive environment in which to devise a means of escaping the Aceton assimilators. (TNG: "Booby Trap") A year later, Doctor Leah Brahms ran the program on the holodeck of the USS Enterprise-D again. (TNG: "Galaxy's Child")
Ad blocker interference detected!
Wikia is a free-to-use site that makes money from advertising. We have a modified experience for viewers using ad blockers

Wikia is not accessible if you've made further modifications. Remove the custom ad blocker rule(s) and the page will load as expected.