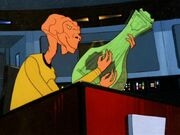 A double guitar was a form of stringed musical instrument similar to a lute.
While under the euphoric effects of Harry Mudd's love potion crystals, Lieutenant Arex sat at his station on the bridge of the USS Enterprise and did nothing but play a double guitar. (TAS: "Mudd's Passion")
The name for this variety of instrument comes from the final draft script of "Mudd's Passion".