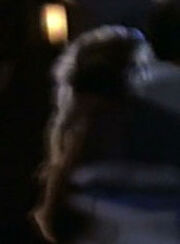 Dorothy Ching-Davis is a stuntwoman and stunt actress who performed stunts as an Excelsior crewmember in her sleep wear who was thrown off her bunk and to the ground in Star Trek VI: The Undiscovered Country.
She was married to fellow stuntman B.J. Davis.
Ching-Davis has also performed stunts in the films Rescue Me (1993, with William Lucking, Rick Fitts, Eric Norris, Eddie Braun, Dennis Madalone, and stunts by Ed Anders, Gary Baxley, George Colucci, B.J. Davis, Lane Leavitt, Noon Orsatti, Rex Pierson, Jeff Smolek, Erik Stabenau, and Merritt Yohnka) and Love, Cheat & Steal (1993, with Mädchen Amick, John Pyper-Ferguson, Ed Anders, B.J. Davis, and stunts by Eddie Braun and Pat Romano).
External link
Edit
Ad blocker interference detected!
Wikia is a free-to-use site that makes money from advertising. We have a modified experience for viewers using ad blockers

Wikia is not accessible if you've made further modifications. Remove the custom ad blocker rule(s) and the page will load as expected.