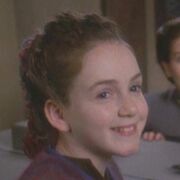 Doren Fein (born 23 April 1984; age 33) is an actress from Texas who portrayed Molly in the Star Trek: Deep Space Nine episode "Children of Time". Her costume from this episode was sold off on the It's A Wrap! sale and auction on eBay. [1]
She was a main cast member on Hearts Afire (which also starred Leslie Jordan) and Days of Our Lives.
Fein's guest star credits include appearances in series such as The Torkelsons (with Suzie Plakson), Empty Nest (with fellow DS9 guest star Shannon Cochran), Blossom, Dr. Quinn, Medicine Woman (with Barbara Babcock, Chad Allen and Helene Udy) and Beverly Hills, 90210.
Her motion picture credits include Rage (with Kenneth Tigar) and Ed (with Bill Cobbs). Fein also appeared in the television movies Undue Influence and To Dance with Olivia (with William Schallert).
External link
Edit
Ad blocker interference detected!
Wikia is a free-to-use site that makes money from advertising. We have a modified experience for viewers using ad blockers

Wikia is not accessible if you've made further modifications. Remove the custom ad blocker rule(s) and the page will load as expected.