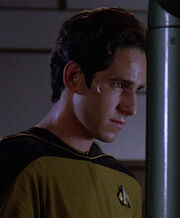 Dore Keller is the actor who appeared as an engineering ensign in the Star Trek: The Next Generation second season episode "The Child".
He also appeared in episodes of L.A. Law (1987, with Corbin Bernsen, Robert Picardo, Wren T. Brown, Jeffrey Alan Chandler, John Hancock and Gregory Wagrowski), Falcon Crest (1988, with Brett Cullen, Bruce French, Karl Held, and Paul Kent), and Open House (1989, with Ray Buktenica).
External link
Edit
Ad blocker interference detected!
Wikia is a free-to-use site that makes money from advertising. We have a modified experience for viewers using ad blockers

Wikia is not accessible if you've made further modifications. Remove the custom ad blocker rule(s) and the page will load as expected.