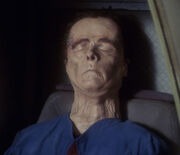 Donald Sage Mackay is an actor who played Shilat, a Kantare, in the Star Trek: Enterprise episode "Oasis". He received no credit for this part.
Mackay is a stage and television actor who appeared in television series such as ER (2000), The District (2001, with Roger Aaron Brown, Vinny Argiro, David L. Crowley, and Richard Fancy), Malcolm in the Middle (2003, with Kenneth Mars and Benjamin Livingston), JAG (2003, with K Callan, Steven Culp, and Marco Rodriguez), The West Wing (2003, with J. Patrick McCormack, Steven Culp, and Timothy Davis-Reed), and House, M.D. (2007, with Vyto Ruginis). He appeared in recurring roles in Providence (2001), Scrubs (2002-2004, with series regular Ken Jenkins), and Passions (2001-2006).
He played supporting roles in films such as Desert Saints (2002, stunt coordinated by Lou Simon) and The Story of Bob (2005), and lent his voice in the films The Swan Princess II (1997) and The Swan Princess III: The Mystery of the Enchanted Kingdom (1998, co-starring Steve Vinovich in both).
External links
Edit
Ad blocker interference detected!
Wikia is a free-to-use site that makes money from advertising. We have a modified experience for viewers using ad blockers

Wikia is not accessible if you've made further modifications. Remove the custom ad blocker rule(s) and the page will load as expected.