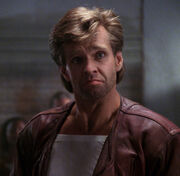 Don Mirault is the actor who played the Coalition leader Hayne in the Star Trek: The Next Generation fourth season episode "Legacy" in 1990.
Mirault's television guest roles include episodes of Automan (1984, with Robert Lansing and John Vernon), Valerie (1989, with Cristine Rose), Knots Landing (1990, with Michelle Phillips and France Nuyen), The Golden Girls (1991-1992, with Mitchell Ryan, Kevin Brief, and Warren Munson), Saved by the Bell (1994), The Pretender (2000, with Barbara Babcock and Melinda Clarke), One World (2000, with Michelle Krusiec), and CSI: Crime Scene Investigation (2002, with Michael Buchman Silver, Michael Ensign, and Marta Martin).
Among his film credits are supporting parts in the drama Secret Places (1996), the thriller Top of the World (1997, with Peter Weller, Cary-Hiroyuki Tagawa, Ed Lauter, and Maria R. Kelly), and the comedy sequel Miss Congeniality 2: Armed and Fabulous (2005, with William Shatner, Diedrich Bader, Faith Minton, L. Sidney, Chuck Hicks, and Darlene Williams).
External links
Edit