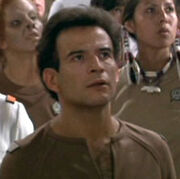 Donald "Don" J. Long (born 9 August 1947; age 70) is an actor, writer, film critic and disc jockey from Indianapolis, who appeared as an Enterprise crewmember in Star Trek: The Motion Picture. [1] His only other known film credit is the 1988 B-movie Invasion Earth: The Aliens Are Here on which he appeared as an alien crewmember and also worked as production assistant.
Long was born in Indianapolis, Indiana, USA and started to work as radio disc jockey in 1966. Beside this work he was a singer and musician in various bands in the 1970s and 1980s including The Bopcats between 1982 and 1986. In 2005 he wrote the script for the film The Hidden Valley based on an original novel by Adolph Hungry Wolf. In 2012 he became a published author of the science fiction novel Star Force for Westbow Press.
External link
Edit
Ad blocker interference detected!
Wikia is a free-to-use site that makes money from advertising. We have a modified experience for viewers using ad blockers

Wikia is not accessible if you've made further modifications. Remove the custom ad blocker rule(s) and the page will load as expected.