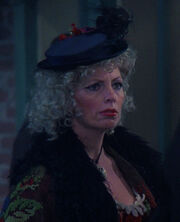 Diz White is the actress who played the holographic prostitute in the Star Trek: The Next Generation second season episode "Elementary, Dear Data" in 1988. As a trained voice actress she also performed voice overs on episodes of Star Trek: Voyager.
She was a member of Low Moan Spectacular, a theater company that also included "Elementary, Dear Data" co-star Alan Shearman. There she co-wrote several plays and musicals including El Grande de Coca-Cola, for which she won a Drama Desk Award, and the farce Bullshot Crummond which was adapted into the 1983 film Bullshot in which she co-starred with Shearman.
More recently, she has contributed voice acting work for various television programs and movies and has written the instructional book Create a Comedy Group.
External link
Edit
Ad blocker interference detected!
Wikia is a free-to-use site that makes money from advertising. We have a modified experience for viewers using ad blockers

Wikia is not accessible if you've made further modifications. Remove the custom ad blocker rule(s) and the page will load as expected.