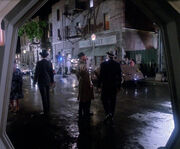 The Dixon Hill series was a novel series written by author Tracy Tormé, and featured private detective Dixon Hill, who first appeared in the short story The Big Good-Bye, published on Earth in the pulp magazine Amazing Detective Stories in 1934.
The Dixon Hill series
The Black Orchid was made into a film, Dixon Hill and the Black Orchid sometime before the 22nd century. The series was published to Federation holosuites by Broht & Forrester in the 24th century. (ENT: "Cogenitor"; VOY: "Author, Author")
The Big Good-Bye
As in all Dixon Hill holographic novels, The Big Good-Bye allowed the user to play the private investigator character of Dixon Hill in the San Francisco of 1941.
Unspecified
This may be part of The Parrot's Claw.
Program characters
Unnamed characters
Story elements
Appendices
Background information
A selection of set dressing items from Trip's quarters It's A Wrap! sale and auction on eBay featured a few data discs, three of which were labeled as Dixon Hill holonovels. However, it's unclear if these made it on-screen. [1]
Appearances
External link