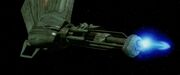 A disruptor cannon was a directed energy cannon weapon commonly used aboard starships of many different species.
Klingon 22nd century Klingon Birds-of-Prey were equipped with an impressive arsenal, for the time, and included wing-mounted (and belly-mounted) disruptor cannons and photon torpedo launchers. (ENT: "Borderland") These cannons were capable of firing in either disruptor pulse or beam modes. (ENT: "The Augments")
These weapons were also found in later designs of Klingon Birds-of-Prey, Negh'Var warships, and Vor'cha-class cruisers. (DS9: "Blood Oath", "The Way of the Warrior"; TNG: "Redemption")
Ad blocker interference detected!
Wikia is a free-to-use site that makes money from advertising. We have a modified experience for viewers using ad blockers

Wikia is not accessible if you've made further modifications. Remove the custom ad blocker rule(s) and the page will load as expected.