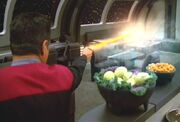 A dispersion frequency was an adjustable setting to Starfleet hand phasers in the 24th century.
In 2373, when Voth scientists Gegen and Veer used interphase technology to infiltrate the USS Voyager in order to conduct archaeological research, their presence was given away when the crew detected spatial fluctuations with a highly-localized modulating phase variance. The crew eventually determined that a hand phaser adjusted to a dispersion frequency of 1.85 gigahertz would disrupt their interphase, and Gegen and Veer were discovered. (VOY: "Distant Origin")
Ad blocker interference detected!
Wikia is a free-to-use site that makes money from advertising. We have a modified experience for viewers using ad blockers

Wikia is not accessible if you've made further modifications. Remove the custom ad blocker rule(s) and the page will load as expected.