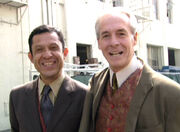 Dieter Hornemann was a background extra and stand-in during the run of Star Trek: Deep Space Nine, Star Trek: Voyager, Star Trek: Enterprise, and Star Trek Nemesis. He often played a Vulcan.
His only other known acting credit was the film My Brother Jack (1998, with Rick Pasqualone and Leonard Kelly-Young).
His costume as a Vulcan Syrrannite was sold off on the It's A Wrap! sale and auction on eBay. [1]

Star Trek appearances
(This list is currently incomplete)
External link