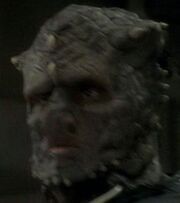 Diaunté played a Jem'Hadar guard in the Star Trek: Deep Space Nine episode "The Search, Part II".
In 1995, Diaunté starred in the movie Project: Metalbeast with Star Trek III: The Search for Spock and Star Trek IV: The Voyage Home stuntman Chuck Picerni, Jr. as well as Brian Brophy, Carole Davis, Brioni Farrell, John Marzilli, and Musetta Vander.
External links
Edit
Ad blocker interference detected!
Wikia is a free-to-use site that makes money from advertising. We have a modified experience for viewers using ad blockers

Wikia is not accessible if you've made further modifications. Remove the custom ad blocker rule(s) and the page will load as expected.