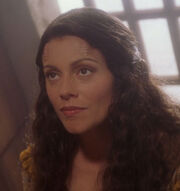 Diane DiLascio is the actress who played Riaan in the Star Trek: Enterprise episode "Civilization".
From 1997 through 1998, DiLascio was a regular on the television series Fame L.A., as was fellow Enterprise guest star Matt Winston.
She has also guest-starred in episodes of Walker, Texas Ranger (with Noble Willingham, Earl Billings, and Patrick Kilpatrick), Murder, She Wrote (with William Windom, Gregg Henry, and Robert Pine), Babylon 5 (with Andreas Katsulas, Bill Mumy, Mary Kay Adams, and TOS star Walter Koenig), The Practice (with John de Lancie and Jeremy Roberts), and CSI (with TNG star Wil Wheaton).
She also has a few feature film credits to her name, including Midnight Man (1995) with Bill Bolender and Driven (1996) with Richard Riehle and Tony Todd.
External link
Edit
Ad blocker interference detected!
Wikia is a free-to-use site that makes money from advertising. We have a modified experience for viewers using ad blockers

Wikia is not accessible if you've made further modifications. Remove the custom ad blocker rule(s) and the page will load as expected.