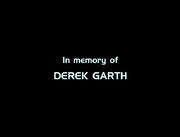 Derek C. Garth (22 July 1946 – 16 December 1996; age 50) was a production staff member on Star Trek: Deep Space Nine, where he worked as a "grip", a lighting and rigging technician. After Garth lost his life in an automotive accident in 1996, the episode "In Purgatory's Shadow" was dedicated to his memory.
Prior to his work on DS9, Garth was a grip for Universal Pictures, working on such films as The Blues Brothers (1980, featuring Henry Gibson), Brewster's Millions (1985, featuring Stephen Collins, with production design by John Vallone), and Stop! Or My Mom Will Shoot (1992, featuring Christopher Collins). He also worked on 20th Century Fox's 1995 comedy Bye Bye Love (featuring Michael Bofshever and Stephen Root, with production design by Linda DeScenna).
Garth lived in Modesto and drove from there to Los Angeles every Monday to work on the series. He later returned home on Friday night. It was on one of his Monday journeys in which he was killed. After Garth's death, Robert Hewitt Wolfe wrote "He was one of the nicest guys I ever met. We miss him". In the Star Trek: Deep Space Nine Companion, Ira Steven Behr says Garth was "the most positive person on the set".
External link
Edit
Ad blocker interference detected!
Wikia is a free-to-use site that makes money from advertising. We have a modified experience for viewers using ad blockers

Wikia is not accessible if you've made further modifications. Remove the custom ad blocker rule(s) and the page will load as expected.