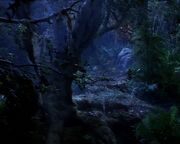 Denmark was a country in northwestern Europe, a continent on Earth. It had a sub-arctic climate, with cold nights. Its was a habitat of the fungi Amanita muscaria. (VOY: "Heroes and Demons")
The Danes were one of the peoples who comprised the seafarers known as Vikings. Denmark's flag was red with a white Nordic cross. (ENT: "First Flight")
Hamlet was a 7th century Danish king, whose murder was avenged by his like-named son. This story became the famous tragedy by Shakespeare. (TOS: "The Conscience of the King")
In the 16th century the Danish king supported the astronomical research of his subject Tycho Brahe. Captain Archer told an anecdote about Brahe as a diversion when captive on the Vulcan monastery planet. (ENT: "The Andorian Incident")
In
2032
, Denmark took part in the
Ares IV
mission. (
VOY
: "
One Small Step
")
The Danish flag could be seen on the Ares IV model amongst others.
In
2143
, the
Ariane 1
assignment patch
, which was on display in the
602 Club
, bore the flag of
ESA
member Denmark. (
ENT
: "
First Flight
")
Commander Chakotay recalled that the epic poem Beowulf was set in 6th century Denmark. (VOY: "Heroes and Demons")
List of People from Denmark
Edit
External link
Edit
Ad blocker interference detected!
Wikia is a free-to-use site that makes money from advertising. We have a modified experience for viewers using ad blockers

Wikia is not accessible if you've made further modifications. Remove the custom ad blocker rule(s) and the page will load as expected.