Denkir IV was the fourth planet in its star system, known for its aquatic life.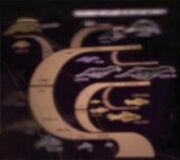 The study of the evolution of intelligent life on Denkir IV was a common lesson in classrooms on both the USS Enterprise-D and Deep Space 9. A large okudagram depicting various aquatic lifeforms and their biological relationships was often seen on display. (TNG: "The Child", DS9: "The Nagus")
The table was first seen in the nursery in "The Child". It later appeared in the schoolroom aboard the
Enterprise
-D in "The Offspring", "Reunion", "Imaginary Friend", "Rascals", and "Masks". It also appeared in the biolab in "New Ground" and in the classroom aboard Deep Space 9 in "Cardassians".
The diagram was created by Rick Sternbach, illustrating the "evolution of intelligent life on the planet Denkir IV", from a (non-Trek) science fiction story he wrote.
Lifeforms
Edit
Background
Edit
The term "Denkir" (which appeared a number of times) dates back to a non-Trek related SF story written by Rick Sternbach. [1] He created some art for the story, including a painting meaning to depict Denkir IV from the perspective of its inner moon, which he later re-used as set artwork. Copies of this painting can be found displayed aboard the USS Enterprise-D in the observation lounge and in guest quarters. (TNG: "The Child", "The Price") Marla Aster also had a copy of the painting in her quarters aboard the Enterprise. (TNG: "The Bonding")
See also
Edit