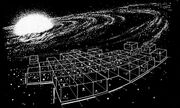 Deneb II was the inhabited second planet of the Deneb planetary system. The system was located within the Alpha Quadrant.
Humans began moving to this planet after 2156. Between 2156 and 2266, Deneb II was the site of several murders of women committed by the Redjac entity, incarnated as "Kelsa". (TOS: "Wolf in the Fold"; Star Trek VI: The Undiscovered Country, production art)
The location of Deneb identified in the "The Explored Galaxy" star chart placed it between the Tholian Assembly and Romulus. Both were identified in

DS9

: "

Call to Arms

" as being located in the Alpha Quadrant.
External link