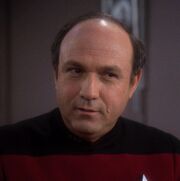 David Spielberg (6 March 1939 – 1 June 2016; age 77) was the actor who portrayed Commander Calvin Hutchinson in the Star Trek: The Next Generation sixth season episode "Starship Mine" in 1993. He later guest starred in the episode "And Everything Nice" of seaQuest DSV alongside Rosalind Ingledew and Marco Sanchez.
External link
Edit
Ad blocker interference detected!
Wikia is a free-to-use site that makes money from advertising. We have a modified experience for viewers using ad blockers

Wikia is not accessible if you've made further modifications. Remove the custom ad blocker rule(s) and the page will load as expected.