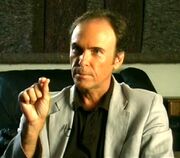 David Gautreaux (born 28 June 1951; age 64) was to have featured as Lieutenant Xon in Star Trek: Phase II. However, the series was canceled, and it was decided to produce Star Trek: The Motion Picture instead. Gautreaux was then recast in a minor role as Commander Branch of Epsilon IX station.
In 2001 he was interviewed for the special feature Phase II: The Lost Enterprise on the Star Trek: The Motion Picture (The Director's Edition) DVD.
In 2005, he guest starred in two episodes of Brannon Braga's short-lived series Threshold, which starred Brent Spiner. In 2008, he guest starred in an episode of Boston Legal, which starred William Shatner and John Larroquette.
Appearances
Further reading
External links