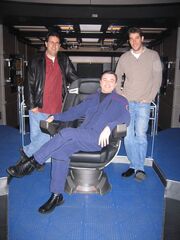 David A. Goodman was a writer for Star Trek: Enterprise, who also served as consulting producer during the series' second season.
In the commentary for the Futurama episode "Where No Fan Has Gone Before" - which was written by Goodman, parodies Star Trek: The Original Series and features its cast - Goodman notes that his work on that episode "got [him] a job on Star Trek".
After departing Enterprise, Goodman was hired as Executive Producer and showrunner on the animated series Family Guy, following its revival by Fox.
Goodman wrote the text for the 2012 reference book, Star Trek: Federation - The First 150 Years, detailing the history of the Federation's formation.
Credits