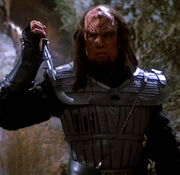 John David "Dave" Cadiente (11 December 1937 – 26 December 2010; age 73) was a stuntman and stunt actor who portrayed the Klingon sergeant in Star Trek III: The Search for Spock. He is the father of Star Trek: Deep Space Nine and Star Trek: Voyager stunt coordinator and performer Jeff Cadiente.
Dave's resume includes blockbuster films and shows such as Scarface (with his son Jeff, Henry Kingi, Sr. and John Meier), Big Trouble in Little China (with James Lew and Jeff Imada), Airwolf, T.J. Hooker (with William Shatner), Magnum P.I., and The Lost World: Jurassic Park (with Marjean Holden).
External link
Edit
Ad blocker interference detected!
Wikia is a free-to-use site that makes money from advertising. We have a modified experience for viewers using ad blockers

Wikia is not accessible if you've made further modifications. Remove the custom ad blocker rule(s) and the page will load as expected.