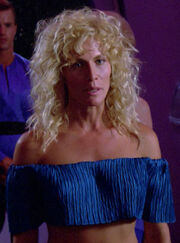 Danitza Kingsley (born Danica Bujic, also known as Danica Perez) played the role of Ariana in the Star Trek: The Next Generation episode "Haven".
In 1988, she appeared in the film Jack's Back with Robert Picardo. In more recent years she has turned her talents to photography, becoming known for portraits of pregnant women. A book of her photographs, The Glow: A Journey to Motherhood, was published in 2001 (under "Danica Perez").
External links
Edit
Ad blocker interference detected!
Wikia is a free-to-use site that makes money from advertising. We have a modified experience for viewers using ad blockers

Wikia is not accessible if you've made further modifications. Remove the custom ad blocker rule(s) and the page will load as expected.