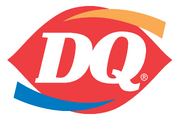 Dairy Queen is a global chain of ice cream and fast food restaurants. It is owned by International Dairy Queen, Inc., a subsidiary of conglomerate holding company Berkshire Hathaway, and is based in Edina, Minnesota, USA.
Star Trek association Edit
In 1997, the company ran several television advertisements tied into Star Trek: Deep Space Nine and its Trials and Tribble-ations episode which cross-promoted their kids' toys and meals. Tickets to a Deep Space Nine contest were included in the promotion.
Star Trek releasesEdit
Four toys were released:
External link
Edit
Ad blocker interference detected!
Wikia is a free-to-use site that makes money from advertising. We have a modified experience for viewers using ad blockers

Wikia is not accessible if you've made further modifications. Remove the custom ad blocker rule(s) and the page will load as expected.