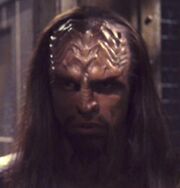 D.J. Lockhart-Johnson played a Klingon guard in the Star Trek: Enterprise episode "Judgment". He was once an NFL player. He has played Coleman 'Doc' Reese in As the World Turns since 2004.
Lockhart-Johnson has also guest starred in Boomtown (with DS9 guest stars Vanessa Williams and Patrick Kilpatrick) and Bones (with Michael Buchman Silver).
External link
Edit
Ad blocker interference detected!
Wikia is a free-to-use site that makes money from advertising. We have a modified experience for viewers using ad blockers

Wikia is not accessible if you've made further modifications. Remove the custom ad blocker rule(s) and the page will load as expected.