Ad blocker interference detected!
Wikia is a free-to-use site that makes money from advertising. We have a modified experience for viewers using ad blockers

Wikia is not accessible if you've made further modifications. Remove the custom ad blocker rule(s) and the page will load as expected.
The following is a list of the Vulcan crew that served on board the D'Kyr.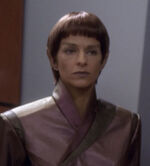 This Vulcan was the captain of the D'Kyr, which transported representatives of the Vulcan High Command for a rendezvous with Enterprise in order to cancel its mission. Captain Jonathan Archer convinced the Starfleet Command Council to allow his ship's mission to continue. (ENT: "Shockwave, Part II")
The Vulcan captain was played by actress Kim Huff who received no credit for her appearance.
Crewmembers
Edit
These crewmembers served aboard the D'Kyr in 2152. (ENT: "Shockwave, Part II")