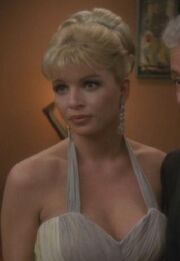 Cyndi Pass played Ginger in the Star Trek: Deep Space Nine episodes "His Way" and "What You Leave Behind".
Pass has also guest starred in Married with Children, Silk Stalkings (with Kenneth Marshall, Charlie Brill and Tim DeZarn), Diagnosis Murder (with Jeri Ryan), NYPD Blue (with Gordon Clapp, Christopher Darga and Ben Slack) and Frasier (with Kelsey Grammer).
Her film credits include Bikini Island, Round Trip to Heaven, Distant Cousins (with Mary Crosby and Brian Bonsall), Scanner Cop (with Hilary Shepard, James Horan, Richard Lynch and Mark Rolston), Serial Killer (with Andrew Prine), Wishmaster (with Tony Todd) and EdTV (with Geoffrey Blake and Clint Howard). She has also starred in various movies with Matthias Hues.
External link
Edit
Ad blocker interference detected!
Wikia is a free-to-use site that makes money from advertising. We have a modified experience for viewers using ad blockers

Wikia is not accessible if you've made further modifications. Remove the custom ad blocker rule(s) and the page will load as expected.