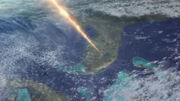 Cuba was a country on Earth's 20th and 21st centuries and which consisted of a large island south of Florida in Earth's Caribbean Sea.
In 1893, hand-rolled Havana cigars, named for Cuba's capital city, were the preferred cigar of Samuel Clemens, whose pen-name was Mark Twain. (TNG: "Time's Arrow, Part II")
In the mid-20th century, Cuba was depicted on the mission insignias for Apollo 1, Apollo 7, and Apollo 11. (ENT: "First Flight").
The island was crossed from north to south by the destructive beam of the 2153 Xindi superweapon test probe, with great loss of life. (ENT: "The Expanse")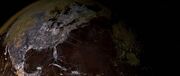 In an alternate Earth assimilated by the Borg, Cuba was connected to Florida and other Caribbean islands with bridge-like structures. (Star Trek: First Contact)
External link