Ad blocker interference detected!
Wikia is a free-to-use site that makes money from advertising. We have a modified experience for viewers using ad blockers

Wikia is not accessible if you've made further modifications. Remove the custom ad blocker rule(s) and the page will load as expected.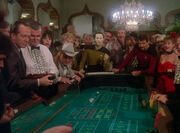 Craps was a dice game in which money was wagered. The game was rather popular in Earth casinos during the 20th century.
There were many craps tables present in the physical re-creation of the titular hotel from the novel The Hotel Royale on Theta VIII. The gambler Texas enjoyed craps and was impressed by Data's run of luck at the game. (TNG: "The Royale")
Vic's Las Vegas Lounge also had several tables. In 2375, Vic Fontaine offered to play a game with Worf. (DS9: "Image in the Sand", "Badda-Bing, Badda-Bang")
External link
Edit