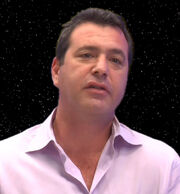 Craig Weiss is the Director of Visual Effects for CBS Digital, the group responsible for remastering work for both the Star Trek: The Original Series and Star Trek: The Next Generation blu-ray releases.
He was nominated for a Daytime Emmy Award for Outstanding Achievement in Main Title Design as graphic designer on the soap opera The Young & the Restless. He was later nominated for two Primetime Emmy Awards for Outstanding Special Visual Effects for a Miniseries, Movie or a Special. His first was for the 2004 TV movie The Winning Season. He shared this nomination with his fellow CBS Digital co-workers Loren Bivens, Deane Boeka, Chris DeCristo, George Garcia, and Niel Wray. He was then nominated for the 2005 mini-series Into the West (featuring Keith Carradine, Keith Szarabajka and Garrett Wang). DeCristo, Garcia, and Wray also shared this nomination. Weiss was the Visual Effects Supervisor on both of these projects.
Weiss, along with fellow CBS Digital co-workers Jimmy Berndt, Toni Pace, and Brian Vogt, were nominated for a Visual Effects Society Award in Outstanding Supporting Visual Effects in a Broadcast Program for their work on the pilot episode Bryan Fuller's hit ABC series, Pushing Daisies.
His other work with CBS Digital includes such television shows as Touched by an Angel, Jericho, and The Bronx Is Burning, TV movies like Jesus, Locusts (featuring Natalia Nogulich), and Pope John Paul II (featuring James Cromwell), and the 2004 film Riding the Bullet (featuring Matt Frewer). More recently, he has supervised special effects on the hit series Numb3rs and Ugly Betty (starring Alan Dale, Tony Plana, and Vanessa Williams).
Weiss has been extensively featured in the podcast documentary Fxguidetv #161: CBS Digital & Star Trek TNG of 27 November 2012, in which he discusses in detail the technological aspects of the remastering process of The Next Generation.
External link