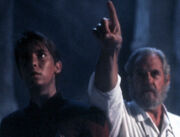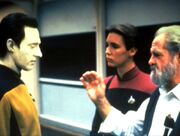 Corey Allen (29 June 1934 – 27 June 2010; age 75), was a director who worked on several Star Trek television episodes.
Allen was born as Alan Cohen in Cleveland, Ohio. He graduated with a Bachelor's Degree of Fine Arts in Theater at UCLA in 1954, and worked mainly as an actor afterward. He was often cast in the role of brash, arrogant young tough guys, most notably as Buzz Gunderson in Rebel Without a Cause (with Ian Wolfe, Chuck Hicks, cinematography by Ernest Haller and music by Leonard Rosenman). Allen was the last surviving main cast member of this film. On stage, he appeared in an Equity production of My Three Angels, directed by future Star Trek director Ralph Senensky.
Meanwhile, Allen directed a number of theater plays, including many Equity productions in Los Angeles. This lead to his long directing career, mostly in television. During his thirty years as a director, he helmed episodes of dozens of television series, including The Streets of San Francisco, Barnaby Jones (starring Lee Meriwether), Hill Street Blues (which he won an Emmy directing an episode for), T.J. Hooker (starring William Shatner, James Darren, and Richard Herd), Dallas (featuring Susan Howard and Joshua Harris), Murder, She Wrote (featuring William Windom) and Magnum P.I.
His association with Star Trek began with directing the pilot episode of Star Trek: The Next Generation, "Encounter at Farpoint". In the next seven years, Allen continued to work on The Next Generation and Star Trek: Deep Space Nine.
Allen had a tendency to direct scenes in a very fast pace, which often resulted in his episodes being too short. During the filming of "Encounter at Farpoint", Gene Roddenberry wrote additional scenes in order to fill the ninety-minute length of the pilot. [X]wbm
Allen died due to complications of Parkinson's disease in Hollywood, California, on 27 June 2010. [1]
Star Trek credits
External links