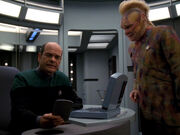 Cooking with Neelix, a Culinary Tour of the Delta Quadrant was an unpublished holo-cookbook written by Neelix, consisting of the many recipes he created and/or encountered in his travels.
In 2378, he sought advice from The Doctor before submitting it to The Doctor's publisher, Broht & Forrester. (VOY: "Author, Author")
It is unknown if Neelix eventually submitted it for publishing in the Federation.