Ad blocker interference detected!
Wikia is a free-to-use site that makes money from advertising. We have a modified experience for viewers using ad blockers

Wikia is not accessible if you've made further modifications. Remove the custom ad blocker rule(s) and the page will load as expected.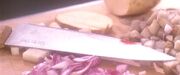 Cook's Club was an establishment on Earth which specialized in creating kitchen utensils.
In 2372, Joseph Sisko used a knife in his restaurant, Sisko's Creole Kitchen created by Cook's Club, which he later cut himself with while engaged in a heated argument with his son, Benjamin over taking a blood screening. (DS9: "Homefront")
External link
Edit