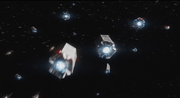 The Constitution-type escape pod was a type of escape pod used aboard Constitution-class starships.
The USS Enterprise was equipped with this kind of pod in the dorsal sides of the secondary hull in 2263. They were used in the evacuation of the Enterprise during the Battle of Altamid in 2263. (Star Trek Beyond)
Kirk's dialog to Ensign Syl's party that they should get to an escape pod, not a Kelvin pod, would suggest that these type of escape pods were also present in the primary hull.
Ad blocker interference detected!
Wikia is a free-to-use site that makes money from advertising. We have a modified experience for viewers using ad blockers

Wikia is not accessible if you've made further modifications. Remove the custom ad blocker rule(s) and the page will load as expected.