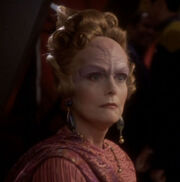 Constance Towers (born 20 May 1933; age 84), is an actress from Whitefish, Montana who played the role of Taxco in the Star Trek: Deep Space Nine episode "The Forsaken". Towers has also appeared in several other television and film roles and currently plays the recurring role of Helena Cassadine on ABC Daytime's General Hospital. She has been married to actor and former US ambassador to Mexico John Gavin since 1974.
Among Tower's earliest films were the John Ford motion pictures The Horse Soldiers and Sergeant Rutledge (with Jeffrey Hunter). Towers has also guest starred in Perry Mason, Hawaii Five-O (with John Colicos), The Outer Limits, Matlock (with Eric Pierpoint) and Frasier (with Kelsey Grammer).
In 2007, she guest starred in Ira Steven Behr's series The 4400, as the title character in the episode "Audrey Parker Has Come And Gone".
External links
Edit
Ad blocker interference detected!
Wikia is a free-to-use site that makes money from advertising. We have a modified experience for viewers using ad blockers

Wikia is not accessible if you've made further modifications. Remove the custom ad blocker rule(s) and the page will load as expected.