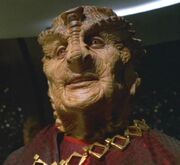 Concetta Tomei (born 30 December 1945; age 71) is an American actress who played Minister Odala in the Star Trek: Voyager episode "Distant Origin". Previously, she also co-starred in the series China Beach with such Trek alum as Robert Picardo, James Cromwell, Jeff Kober, and Megan Gallagher.
In 1987, she appeared in the series Max Headroom, along with Matt Frewer, Rosalind Chao, George Coe, Andreas Katsulas, W. Morgan Sheppard, and the late Charles Rocket.
External links
Edit
Ad blocker interference detected!
Wikia is a free-to-use site that makes money from advertising. We have a modified experience for viewers using ad blockers

Wikia is not accessible if you've made further modifications. Remove the custom ad blocker rule(s) and the page will load as expected.