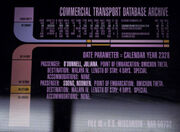 The commercial transport database was a record of passenger manifests of different transport ships.
In 2370, Lieutenant Commander Data accessed the commercial transport database and searched the passenger manifests of the ships SS Augyn and the SS Manila to find a proof that Juliana Tainer traveled with his father Noonien Soong to Mavala IV. (TNG: "Inheritance")
Most of the names seen on the okudagrams are references to the production staff.
The following information were available for Data: