Ad blocker interference detected!
Wikia is a free-to-use site that makes money from advertising. We have a modified experience for viewers using ad blockers

Wikia is not accessible if you've made further modifications. Remove the custom ad blocker rule(s) and the page will load as expected.
Columbia (NX-02)Edit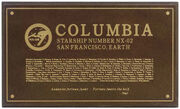 The following information was listed on the dedication plaque of Columbia NX-02. (ENT: "Affliction" set artwork)

Columbia
Spacecraft number NX-02
San Francisco, Earth
Starfleet Command: R. Berman, B. Braga, M. Coto, P. Lauritson, M. Howard, D. Velazquez, J.P. Farrell, B. Yacobian, S. Welke, D. Rossi, D. Mirabello, T. Matalas, D.
Rooney, S. Rissmiller – Vehicle Development: A. Kroeker, B. Yacobian, G. Harvey, E. Norman, N. Lee, T. Scott, R. Simonson, A. Levy, A. Fukai, M. DeMeritt, D.
Trotti, T. Tagamolila, J. Harris, P. Butler, J. Rudolph, J. Brown, S. Shimizu, L. Sena, A. Pooley – Mission Ops: M. Sussman, A. Bormanis, J. Reeves-Stevens, G. Reeves
Stevens, J. Fernandez – Spaceframe Engineering: H. Zimmerman, L. Dorton, J. Eaves, D. Drexler, B. Heidemann, M. Okuda, J. Van Over, A. Fredrickson, A. Kobayashi
F. Zimmerman, L. Cole, A. Packard – Propulsion Systems: M. Rush, D. Knapp, M. Reilly, M. Rush, S. Peck, R. Eyslee, F. Valdes, L. Christenberry, R. Meyers, D.
Pondella, P. Jacobson, J. Devlin, R. Dominguez, W. Mayer, R. Calvaruso, A. Dominguez – Orbital Ergonomics: J. Mees, M. Bozeman, A. Zerkel, E. Kelly, C. Russo, J.
Nesterowicz – Deep Space Operations: T. Arp, T. Purser, J. Pizston, J. Djanrelian, C. Clark, F. O'Hea, R. Ratliff, J. Peyser, D. Drozdowski, R. Hester, W. Thoms, V.
Deadrick, Jr. – Flight Test Crew: G. Agalsoff; J. Agalsoff, R. Cooper, D. Okuda, B. Betts, M. Moore, R. Goddard, L. Connolly, M. Westmore, V. Canamar, E. Ellis, S.
Westmore, J. Lewis, B. Look – Environmental Systems: B. Blackman, C. Kunz, T. Siegel, P. Corcoran-Woods, M. Hoffman, E. Regan, J. Thomas, L. White – Security: L.
Ward, S. D'Errico, G. Edelman, L. Dukes, S. Brill, J. Moore, J. Fisher – Flight Software: J. McMeikan, J.P. Farrell, B. Lederman, C. Petrus, D. Baskin, H. Jierjian, D. Koeppel
M. O'Halloran, A. Codron, D. Takemura, A. Simonson, A. Lambert – United Earth Space Probe Agency: G. Roddenberry, W.M. Jefferies
"Audentes fortuna juvat - Fortune favors the bold – Virgil"