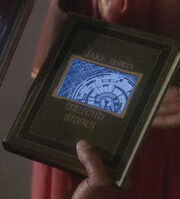 Collected Stories was an anthology written by Jake Sisko in an alternate timeline in which his father Benjamin suffered temporal displacement.
Collected Stories won the Betar Prize in 2389. In the 25th century, Melanie said that she read the Collected Stories and was upset about finishing them, so she read the stories several times and each time pretended she was reading them for the first time.
When Benjamin Sisko appeared one night in Jake and Korena's house, Korena proudly presented him with Jake's two books. (DS9: "The Visitor")
External link
Edit
Ad blocker interference detected!
Wikia is a free-to-use site that makes money from advertising. We have a modified experience for viewers using ad blockers

Wikia is not accessible if you've made further modifications. Remove the custom ad blocker rule(s) and the page will load as expected.