Ad blocker interference detected!
Wikia is a free-to-use site that makes money from advertising. We have a modified experience for viewers using ad blockers

Wikia is not accessible if you've made further modifications. Remove the custom ad blocker rule(s) and the page will load as expected.
Named personnel
Edit
Unnamed personnel
Edit
Denobulan scientists
Edit
Deputy Director
Edit
This Human male served as deputy director of the medical facility Cold Station 12, working under Dr. Jeremy Lucas in 2154. When the station was attacked by Dr. Arik Soong and his Augments, they attempted to coerce Dr. Lucas into giving them the access codes to remove the Augment embryos stored on the station. When Dr. Lucas refused, Soong and the Augments infected the deputy director with Symbalene blood burn. He died soon after. (ENT: "Cold Station 12")
The Deputy Director was played by Kris Iyer.
Originally, two characters were written to be working at Cold Station 12, a pathologist and a female scientist. These roles were combined to create the character of the Deputy Director. Hence, in a bracketed note, the final draft script of "Cold Station 12" pointed out, "The roles of PATHOLOGIST and FEMALE SCIENTIST have been combined into DEPUTY DIRECTOR."
Security Guard #1
Edit
This Starfleet security guard was stationed on board Cold Station 12 in 2154. He was knocked out by Persis when the Augments invaded the station. (ENT: "Cold Station 12")
Security Guard #2
Edit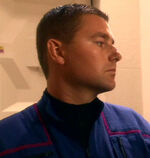 This Starfleet security guard was stationed on board Cold Station 12 in 2154. He was knocked out by Persis when the Augments invaded the station. (ENT: "Cold Station 12")