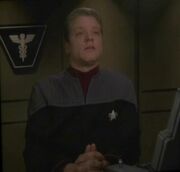 Colby French played Ensign Weldon in the Star Trek: Deep Space Nine episode "When It Rains...".
He has also guest starred in Dangerous Minds (with fellow DS9 guest star Michael Jace), The X-Files, Angel, ER, 24 (with Penny Johnson, Greg Ellis and Glenn Morshower), Without a Trace (with Patricia Tallman), Entourage, Revolution, Hell on Wheels (with Colm Meaney), Last Resort, True Blood and Ray Donovan. He also had a recurring role in Threat Matrix.
French has starred in several motion pictures and television movies including The Colony, Grosse Pointe Blank, Ghosts of Genius, Bruce Almighty (with Max Grodénchik and Michael Bofshever), Don't Tell, Witchwise and Stay.
In 2007 he appeared opposite William Shatner in the hit ABC series Boston Legal. John Larroquette stars in this series, as well, and French's episode (entitled "No Brains Left Behind") also featured Henry Gibson and Mark L. Taylor.
External links
Edit
Ad blocker interference detected!
Wikia is a free-to-use site that makes money from advertising. We have a modified experience for viewers using ad blockers

Wikia is not accessible if you've made further modifications. Remove the custom ad blocker rule(s) and the page will load as expected.