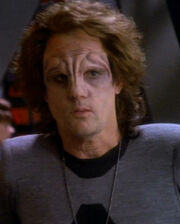 Cliff DeYoung (born 12 February 1945; age 71) is the actor who portrayed Croden in the Star Trek: Deep Space Nine first season episode "Vortex". He was the lead singer in the 1960s band Clear Light.
DeYoung's motion picture credits included Harry and Tonto, Glory, Blue Collar, Shock Treatment, Protocol, Flight of the Navigator, Flashback and Wild. De Young had a supporting role in the horror film Carnosaur 2 (1995, with John Savage, Christopher Darga and John Davis Chandler).
Other television appearances include playing Jay Nemman in the pilot episode of The X-Files (Jim Jansen also appeared in that episode) and also appeared in The Tommyknockers.
External links
Edit