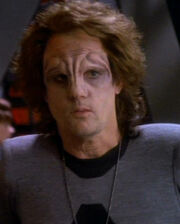 Cliff DeYoung (born 12 February 1945; age 72) is the actor who portrayed Croden in the Star Trek: Deep Space Nine first season episode "Vortex". He was the lead singer in the 1960s band Clear Light.
DeYoung's motion picture credits included Harry and Tonto, Glory, Blue Collar, Shock Treatment, Flight of the Navigator, Flashback and Wild. DeYoung had supporting roles in the comedy Protocol (with Ed Begley, Jr., Joel Brooks, Kenneth Mars, Jeanne Mori, Chris Sarandon, Gail Strickland, Keith Szarabajka, George D. Wallace, and Paul Willson) and the horror film Carnosaur 2 (with John Savage, Christopher Darga and John Davis Chandler).
Other television appearances include playing Jay Nemman in the pilot episode of The X-Files (Jim Jansen also appeared in that episode) and also appeared in The Tommyknockers.
External links
Edit
Ad blocker interference detected!
Wikia is a free-to-use site that makes money from advertising. We have a modified experience for viewers using ad blockers

Wikia is not accessible if you've made further modifications. Remove the custom ad blocker rule(s) and the page will load as expected.