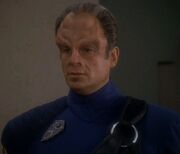 Clayton Landey played Lieutenant Fuchida in the Star Trek: Deep Space Nine episode "Prodigal Daughter".
He starred with fellow DS9 guest star Gail Strickland in the 1979 movie Norma Rae. Clayton appeared in the 1987 hit horror movie A Nightmare on Elm Street 3: Dream Warriors with DS9 guest star Craig Wasson, TNG guest star Nan Martin, Star Trek II: The Wrath of Khan star Paul Kent, TNG guest star Brooke Bundy, the 1990 movie Pump Up the Volume with TNG guest star Robert Schenkkan and starred Christian Slater, who appeared in Star Trek VI: The Undiscovered Country. Clayton appeared in the 1988 horror re-make The Blob with Beau Billingslea, Richard Anthony Crenna, Peter Crombie, and Rick Avery. He starred with another DS9 guest star, Vanessa Williams, in 1996's Eraser. In 1997 he appeared in the sci-fi show Babylon 5 in season 4 episode 10 as a resistance fighter as "Number Two". This makes him one of the few actors to appear in both series. In 2005, Landey appeared in Stargate: Atlantis in the episodes "The Siege" Parts 2 and 3 as Colonel Dillon Everett.
External links
Edit
Ad blocker interference detected!
Wikia is a free-to-use site that makes money from advertising. We have a modified experience for viewers using ad blockers

Wikia is not accessible if you've made further modifications. Remove the custom ad blocker rule(s) and the page will load as expected.