Ad blocker interference detected!
Wikia is a free-to-use site that makes money from advertising. We have a modified experience for viewers using ad blockers

Wikia is not accessible if you've made further modifications. Remove the custom ad blocker rule(s) and the page will load as expected.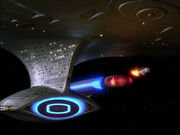 A class-3 probe was a type of surveillance probe, that was carried aboard Federation starships in the 24th century. These probes were designed to survive a planetary landing and to be virtually undetectable by sensors.
In 2366, when Geordi La Forge was stranded on the surface of Galorndon Core, Wesley Crusher placed a neutrino beacon aboard a class-3 probe on the USS Enterprise-D. The probe was sent to land on the surface of the planet, where La Forge's VISOR was used to detect the neutrino particles. He was rescued when he found the probe and modulated the neutrino stream. (TNG: "The Enemy")
In 2374, Tim Watters launched a class-3 probe from the USS Valiant to gather information on the Dominion's new battleship. (DS9: "Valiant")
External link
Edit