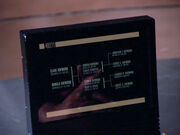 Clare Raymond was born in Indianapolis, Indiana, in 1959. At the time of her death in 1994, she was a homemaker from Secaucus, New Jersey.
Raymond was married to Donald Raymond with two sons, Tommy and Edward. When she died of an embolism at 35 years old, her husband had her body frozen and stored in a cryonics satellite. The satellite drifted in space for more than three centuries until the USS Enterprise-D found it in 2364 near the Kazis binary system.
Not knowing what to do with the frozen bodies he discovered, Data brought her back to the Enterprise-D, where Dr. Crusher revived and cured her. Clare returned to Earth aboard the USS Charleston. She had decided to look up her descendants, in particular Thomas Raymond, who was living in the Indianapolis area. (TNG: "The Neutral Zone", okudagram)
Watching the Clock
reveals that, after finding trouble adjusting to life in the twenty-fourth century due to the limited activities available for her, Clare goes on to become a temporal displacement counselor for the Department of Temporal Investigations, helping people who have been the victim of time travel from the past to the future- such as the USS Bozeman- adjust to their new lives and talk about what they left behind in the past due to her own experiences.
External link
Edit