Cinefantastique was a magazine devoted to television and movie productions in the horror, fantasy and science fiction genres. It started out as a fanzine in 1967, under the stewardship of Frederic S. Clarke. Under his auspices, it soon developed into a high-quality critical review magazine, relaunched and with a re-started numbering from 1970 onward, with in-depth articles about the genre. The high quality was reflected in the way the magazine was published, being printed on high gloss paper and featuring full color interior work, with advertising kept to a minimum and those limited to related products. Over time, a more journalistic approach was introduced as a new element in the formula. Reporters were sent out to get firsthand information of the people involved in the genre productions.
Another element was introduced in 1977, with the publication of the first double issue covering Star Wars, heralding the advent of theme numbers where editors were able to go in-depth into specific productions in the genre. Double issues became regular occurrences of Cinefantastique. Up until then the formula was comparable with the contemporary Starlog magazine.
In 1990, Star Trek: The Next Generation became the first television show to be covered in an episode guide issue. The set-up differed in that the guide was beefed out with behind-the-scenes articles. The formula was very well received by readers and was later expanded to double issue theme numbers and applied to other popular genre television series of the time, like The X-Files and Babylon 5. Mark A. Altman, Dale Kutzera and Anna Kaplan became the premier reporters on Star Trek. While not as specialized as its contemporaries , American Cinematographer and Cinefex, Cinefantastique covered a wider range of behind-the-scenes aspects of productions. At the time of publication, Cinefantastique was the premier source of contemporary background information on the production of the Star Trek spin-off television series, its two contemporaries concentrating on the movie features.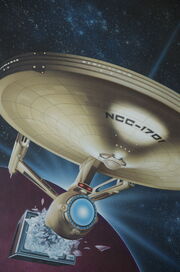 Noteworthy is that – unlike the other Star Trek productions, up to 2002 – coverage of Star Trek: The Motion Picture and Star Trek V: The Final Frontier was either very limited (in the first case) or altogether non-existent (in the latter case). Especially the first case was remarkable since The Motion Picture received extensive coverage, at the time, in contemporary magazines like Starlog, American Cinematographer, and Cinefex. Cinefantastique had planned a theme double-issue for the occasion, and articles were written for the issue. However, editorial problems, probably due to scheduling problems with the likewise conceived The Black Hole double-issue, caused that issue never to be published. The completed cover art by Roger Stine for that issue was later acquired by Daren Dochterman [1], having bought it as Lot 257 in the Profiles in History Hollywood Auction #24 of 31 March, 2006.
Years later, in regard to the Motion Picture, the main free-lance writer for the would-be special, Preston Neal Jones, shed more light on the issue of its non-publication, as he searched for a publisher to have his work, done for the special, yet published as a book, entitled "Return to Tomorrow":
"This work began in the summer of 1979 as a commission from Frederick S. Clarke, the editor of Cinefantastique magazine, to create a double-issue honoring the imminent Star Trek movie, similar to previous special issues covering Star Wars and Close Encounters. Given to understand by my Trek fan friends that they would wish to read as detailed an account as possible, I interviewed sixty participants in the creation of this film, from Roddenberry and his original cast to director Robert Wise, science advisor Isaac Asimov, composer Jerry Goldsmith, screenwriters, set designers, special effects technicians and on and on, up to and including the young Executive in Charge of Production, one Jeffrey Katzenberg. I edited this material like a montage of memories, as if all sixty people were holding a round-robin seminar about the making of the movie. Wherever possible, I let them tell the story in their own words. (...)
"Even given that it was impossible to complete this magnum opus in time for the film's opening in December of 1979 – as I'm sure your readers are well aware, the special effects teams were working on ST-TMP until literally a few days before its premiere – my editor still had cause to regret the great amount of time I took on this assignment. By the time I was finished, the picture was long gone from theaters, and the completed manuscript totaled some 1,800 pages – more than enough for three books, let alone one.
"Cinefantastique kept promising its readers [among others in Vol. 10, issue 1, in a in a full page ad, featuring in black and white, the unused cover art, mentioned above] that it would print Return to Tomorrow, but this never happened, for reasons known only to Fred, now sadly gone from the planet.
"My book was never designed to be a muck-raker, but it was an honest, straightforward account of the amazing series of crises and difficulties encountered by this particular big-studio production. One reason why I believe the book should finally be published is that it examines a major motion picture in more detail than any previous book of its kind. Now that a few relatively honest books on the Trek universe have been published in recent years, with no resulting collapse of Gulf and Western or its assets, my hope is that Return to Tomorrow can finally take its place among them." [2]
In 2000, founder and chief editor Clarke committed suicide. After his death, perceived quality of the magazine (both in content and product) started to wane and readership began to decline rapidly, before the magazine ceased publication in 2002. Mark A. Altman, who had previously left the magazine, acquired publishing rights with Mark Gottwald and relaunched it under the new title CFQ in 2003. Returning the publication to its original formula of being a critical review magazine, they were unable to regain the popularity it originally had in its heydays and publication ceased in 2006 after 25 issues.
Cinefantastique relaunched in 2007 as a webzine called Cinefantastique Online.
Notable issues
Of particular relevance to Star Trek are the following issues (most of them with recognizable cover art by David Voight, annotated if otherwise):
Issue
Cover
Contents
32, Vol 9 #3/4, 1979
Star Trek: The Motion Picture:

"STAR TREK The Motion Picture", Kay Anderson, pp. 64-67

44, Vol 12 #5/6, 1982

Cover A
Cover B
Star Trek II: The Wrath of Khan - "Double issue"/two alternative covers:
- note: Cover A by Roger Stine

"Star Trek: The Wrath of Khan", Kay Anderson, pp. 50-55, 57-61, 63-68, 70-74
"Costume Design", p. 56
"Optical Effects by Visual Concepts EngineeringV, p. 62
"Brightening Outer Space With Nebula Splendor", p. 69
"Star Trek I: "

Space Seed

"", p. 75

51, Vol 14 #2, 1984
Star Trek III: The Search for Spock:
- note: Cover by Andrew Probert
63, Vol 17 #2, 1987
Star Trek: The Original Series/20th anniversary edition:
- note: Cover by Gale Heimbach

"Star Trek", Ben Herndon, pp. 24-30, 32-39, 55
"Photographing Star Trek", Dennis Fisher, pp. 27, 55
"Star Trek IV: The Voyage Home", Allen Malmquist, pp. 31, 58<
"The Music of Star Trek", Hans Siden, pp. 35, 54
"The Makeup of Star Trek", Ben Herndon, p. 38

64, Vol 17 #3/4, 1987
Star Trek III: The Search for Spock, Star Trek IV: The Voyage Home:
- note: Cover by Gale Heimbach

"Leonard Nimoy on directing Star Trek", Dan Gire, pp. 24-26, 29, 31-33
"What's Wrong With Star Trek?", Thomas Doherty, pp. 27-28
"New Music For Starfleet", Randall D.Larson, pp. 30, 124
"Spoofing Star Trek", Thgomas Doherty, p. 32
"Nicholas Meyer, The Man Who Saved Star Trek", Dennis Fischer, pp. 35-39
"Shatner Directs Trek V?", Frederick S. Clarke, p. 38
"Special Effects; Industrial Light & Magic", Ron Magid, pp. 40-47
"Matte Painting", Ron Magid, p. 43
"Miniature Effects", Ron Magid, p. 46
"The Search For Spock", Kay Anderson, pp. 48-63, 68-69
"Charles Correll–Director of Photography–", Kay Anderson, p. 52
"DeForest Kelley–Dr. Leonard "Bones" McCoy–", Kay Anderson, p. 60
"Star Trek's ILM Look", Allen Malmquist, pp. 64-67
"Tom Lay–Illustrator–", Kay Anderson, p. 68
"Bob Dawson–Special Effects Supervisor–", Kay Anderson, p. 75

71, Vol 19 #3, 1989
Star Trek: The Next Generation:

"Behind The Scenes Of "The Next Generation"", Mark Dawidziak, pp. 24-30
"View From The Bridge", Daniel M. Kimmel, p. 27
"The Script Process", Mark A. Altman, pp. 28-29, 61
"Shakedown Cruise", Thomas Doherty, pp. 30-31, 34<
"Video technology gives the show more effects for less money.", Mark Dawidziak, pp. 32-33, 60
"The Next Generation, The Second Season", Thomas Doherty, p. 35
"The Music of The Next Generation", Randall Larson, pp. 46, 60

79, Vol 21 #2, 1990
Star Trek: The Next Generation, season 1-3:

"Star Trek: The Next Generation", Mark A. Altman, pp. 24-28, 30, 33, 35-36, 38, 40, 43-44, 46, 49, 51
"Episode Guide", pp. 26-30, 32-38, 40-46, 48-51
"Continuing Q", Mark A. Altman, pp. 28-29, 59
"The Power Behind The Throne", Mark A. Altman, p. 31
"Rob Bowman, Directing Auteur", Mark A. Altman, pp. 32-34, 55
"The Ferengi", Mark A. Altman, p. 35
"The Importance Of Being Data", Mark A. Altman, pp. 36-37, 59<
"Trekker Turns Story Editor", Mark A. Altman, pp. 39, 58<
"Golden Boy To Bad Boy", Mark A. Altman, pp. 40-42
"Big Bad Worf", Mitchell Rubinstein, p. 43
"The Klingons", Mark A. Altman and Mitchell Rubinstein, pp. 44-45, 59
"Writer/Producer Endangered Species", Mark A. Altman, pp. 47, 59
"Patrick Stewart At The Helm", Sue Uram, pp. 48-49
"The Trouble With Troi", Mark A. Altman, p. 51

85, Vol 22 #2, 1991
TNG Season 4:
- Star Trek The Next Generation. Mark A. Altman, pp. 16-17, 19-20, 22, 25, 27, 29-30, 33, 35, 37-38, 41, 43-44, 46, 49, 51
- Rick Berman, Production Mogul, Mark Altman, p. 18
- Episode Guide, pp.19, 21-22, 24, 26-30, 32, 34-36, 38, 40, 42-43, 45-46, 48, 50-51
- Worf Unmasked, Sue Uram, pp. 20-21
- Michael Piller, Scriptmaster, Mark Altman, p. 23
- Shooting Star Trek, Behind-The -Scenes, Mark Altman, pp. 24-26, 62
- A Haven For First Time Directors?, Mark Altman, p. 312
- The Special Effects Of Star Trek, Mitchell Rubinstein, pp. 32-34
- The Making of "

Family

", Mark Altman, pp. 35-37
- Marina Sirtis, Ship´s Counselor, Mark Altman, p. 39
- Writing Star Trek, Behind-The-Scenes, Mark Altman, pp. 40-42
- The Making of "

First Contact

", Mark Altman, pp. 44-45
- Jonathan Frakes, Actor/Director, Mark Altman, p. 47
- The Making of "

The Best of Both Worlds, Part II

", Mark Altman, pp. 48-50, 61
86, Vol 22 #3, 1991

Cover A
Cover B
TOS - 25th anniversary issue with two alternative covers:
- Star Trek The 25th Anniversary, Thomas Doherty. pp. 8-10, 60
- Gene Roddenberry, Philosopher, Junior Grade, Sheldon Teitelbaum, pp. 11-14
- Harve Bennett, Movie Paradise Lost, Sheldon Teitelbaum. pp. 15-18, 60
- A Trek Cruise Down Memory Lane, Sue Uram, pp. 19-22
- Star Trek VI: The Last Hurrah?, Sheldon Teitelbaum, pp. 23, 60
- Nicholas Meyer Franchise Mr. Fix-It, Sheldon Teitelbaum, pp. 24-26
- Saavik: Enterprise Exile, Sue Uram, p. 26
- Ten Best List, pp. 27, 61
note: Cover A by John Hanley
88, Vol 22 #5, 1992
Star Trek VI: The Undiscovered Country:
- The Making Of "The Undiscovered Country". Mark A. Altman, pp. 24-25, 27-28, 30, 32, 35-36, 38, 43-44, 46, 48, 51-52, 54
- The Undiscovered Prologue, Mark A. Altman, p. 26
- The Unmaking of Starfleet Acadamy, Mark A. Altman, pp. 28-29
- The Search for Saavik, Mark A. Altman, p. 31
- Creature Feature, Ron Magid, pp. 33-34
- Mutiny On The Enterprise, Mark Altman, pp. 36-37
- Gene Roddenberry & Other Great Birds, Mark A. Altman, pp. 39-42
- The Importance Of Being Valeris, Mark Altman, pp. 44-45
- Directing The Last Hurrah, Ron Magid, p. 47
- ILM's Effects Final Frontier, Ron Magid, pp. 49-50
- Bridging The Generation Gap, Mark Altman, pp. 52-53
- Designing The Final Frontier, Ron Magid, p. 55
91, Vol 23 #2/3, 1992
TNG Season 5:
- Star Trek The Next Generation, Mark A. Altman, pp. 32-33, 35-36, 38, 43-44, 46, 51-52, 54, 59-60, 62, 67-68, 70, 75, 77-79, 84, 86, 91-92, 94, 99-100, 102
- Reincarnating Denise Crosby, Mark A. Altman, p. 34
- Episode Guide, pp. 35, 37-38, 43, 45-46, 51, 53-54, 59, 61-62, 67, 69-70, 75-76, 78-79, 85-86, 91, 93-94, 99, 101-102
- Rick Berman, Trek's New Great Bird, Mark A. Altman, pp. 36-37
- Special Visual Effects, Mitchell Rubinstein, pp. 39-42
- Inside the Writing Staff, Mark A. Altman, p. 42
- Next Generation's Piller of Strength, Mark A. Altman, pp. 44-45
- Star Trek's "Unification", Mark A. Altman, pp. 47-50
- The Making of "

The First Duty

", Mark A. Altman, pp.52-53
- Shooting Star Trek, Mark A. Altman, pp. 55-58
- Two Wrights Don't Make a Wrong, Mark Altman, pp. 60-61
- Q-Where?, Mark A. Altman, pp. 63,125
- Data Entry, Mark Altman, pp. 64-66
- Cinematographer Marvin Rush, Mark A. Altman, pp. 68-69
- Tackling Gay Rights, Mark A. Altman, pp. 71-74
- Fashion in the 24th Century, Mark Altman, pp. 75-76
- Deep Space Nine, Spinn-off Series Preview, Mark Altman, pp. 80-83
- Building for the Future, Mark Altman, pp.b 84-85
- Quiet on the Set!, Mark A. Altman, pp. 87-90
- 24th-Century Techs, David Ian Salter, pp. 92-93, 124
- Building the U.S.S. Enterprise, David Ian Salter, p. 95
- Ensign Ro Laren, Mark A. Altman, pp. 96-98
- Scoring the Final Frontier, Lukas Kendall, pp. 100-101, 124
- Alien Makeups, David Ian Salter, pp. 103-105
94, Vol 23 #6, 1993
DS9:
- Star Trek Deep Space Nine, Mark A. Altman, pp. 16-17, 19-20, 22, 24, 27, 30, 35-36, 38, 43
- Rick Berman, Trek's Major Domo, Mark ALtman, p. 18
- Casting the Space Station Ensemble, Mark Altman, pp. 20-21
- Michael Piller, Series Co-crator, Mark A. Altman, p. 23
- Filming on the New Frontier, Mark Altman, pp. 24-25
- Visitor on Board, Mark Altman, p. 26
- Herman Zimmerman, Production Designer, Mark Altman, pp. 28-29
- Alien Makeups, David Ian Salter, p. 31
- The Pilot, Behind-the-Scenes, Mark A. Altman, pp. 32-34
- Conceptual Artist Richard Delgado, David Ian Salter, pp. 36-37
- Shape-Shifting Security Chief, Mark Altman, p. 39
- Scripting the Adventures, Mark A. Altman, pp. 40-42
97, Vol 24 #3/4, 1993
TNG Season 6, DS9 Season 1:
- Star Trek The Next Generation, Mark A. Altman, pp. 16-17, 19-20, 28, 30, 35-36, 38, 43, 45-46, 51-52, 55, 59-60, 62, 67-68, 70, 75-76, 78, 83-84, 87
- Star Trek's Next Spinn-off, Mark A. Altman, p. 18
- Episode Guide, pp. 19, 21, 29-30, 35, 37-38, 43, 45-46, 51, 53-54, 59, 61-62, 67, 69-70, 75, 77-78, 83, 85-87
- Rick Berman, Keeper of the Flame, Mark A. Altman, pp. 20-21
- The Making of "

Relics

", Mark A. Altman, pp. 22-27
- Michael Piller, Trek's Secret Weapon, Mark A. Altman, pp. 28-29
- Heading to the Big Screen, Mark A. Altman, pp. 31-34
- Jeri Taylor, Script Supervisor, Mark A. Altman, pp. 36-37
- "Chain of Command", Mark A. Altman, pp. 39-41
- Brent Spiner on Data, Mark A. Altman, p. 42
- The Acting Ensemble, Mark A. Altman, pp. 44-45
- Guess Q's Coming to Dinner?, Mark A. Altman, pp. 47-49
- Alien Makeups, David Ian Salter, p. 50
- The Board and the Art of the Pitch, Mark A. Altman, pp. 52-55
- The Making of "

Tapestry

", Mark A. Altman, pp. 56-57
- Will Riker, to Be or Not to Be?, Mark A. Altman, p.58
- Ron Moore and Brannon Braga, Mark A. Altman, pp. 60-61
- Stephen Hawking's Star Trek Cameo, Mark A. Altman, p. 63
- Martina Sirtis, Betazoid Beauty, Mark A. Altman, pp. 64-66
- Rene Echevarria, Waiter Cum Writer, Mark A. Altman, pp. 68-69
- The Making of "Birthright", Mark A. Altman, pp. 71-74
- Technobabble's Main Man, Mark A. Altman, pp. 76-77
- Special Visual Effects, David Ian Salter, pp. 79-82
- The Final Frontier's Musical Discord, Mark A. Altman, pp. 84-86, 124
- Star Trek Deep Space Nine, Mark A. Altman, pp. 88-89, 91, 93-95, 96, 99, 101-102, 104, 107-110
- Quark, Mark A. Altman, p. 90
- Episode Guide, pp. 91-94, 97-102, 104, 107-110
- Shooting on the New Space Station, Mark A. Altman, pp. 92-93
- Odo, Mark A. Altman, p. 95
- Behind-The-Scenes, A Day on the Set, Mark A. Altman, pp. 96-98
- "

Emissary

", Creating the Pilot, Mark A. Altman, pp. 100-101
- Major Kira, Mark A. Altman, p.103
- Effects, David Ian Salter, p. 105
- Designing Aliens, David Ian Salter, p. 106
- The Wormhole, Douglas Eby, pp. 111, 124
104, Vol 25 #6/Vol 26 #1, 1994
TNG Season 7, DS9 Season 2, Star Trek Generations
- Star Trek Generations, Michael Beeler, pp. 20-24,
- You're Dead, Jim!, Sue Aram, p. 23
- Star Trek The Next Generation, Dale Kutzera, pp. 44-51
- Episode Guide 7th Season, pp. 47-50, 54, 56, 59-60, 62, 66, 68, 72, 76, 79-80, 82, 87, 89-90, 92-93
- Special Visual Effects, Tim Prokop, pp. 52-63, 124,
- Shot by Shot, Tim Prokop, pp. 64-69
- Painting the Future, Tim Prokop, pp. 70-73
- "

All Good Things...

", Dale Kutzera, pp. 74-76
- Making "

Lower Decks

", Dale Kutzera, pp. 77-80
- Freelance Writers, Dale Kutzera, pp. 81-82
- Doctor Turns Director, Dale Kutzera, p. 83
- All Our Yesterdays, Dale Kutzera, pp. 84-87
- Troi's Marina Sirtis, Judd Hollander & Sue Feinberg, pp. 88-89
- Low-Tech Effects, Tim Prokop, pp. 90-91
- Curry's Heroes, Tim Prokop, pp. 92-93, 124
- Star Trek Deep Space Nine, Dale Kutzera, pp. 94-98
- Episode Guide Second Season, pp. 96-98, 100-103, 105-107, 109, 111
- Special Effects, Tim Prokop, pp. 99-102
- Star Trek: Voyager, Dale Kutzera, pp. 104-105, 124
- "

The Alternate

", Tim Prokop, pp. 106-107
- "

The Jem'Hadar

", Tim Prokop, pp.108-109
- Ferengi Stardom, Dale Kutzera, pp. 110, 124
105, Vol 26 #2, 1995
Star Trek Generations:
- Star Trek Generations, Michael Beeler, pp. 16-17, 19-, 21-22,, 25, 27-28, 30, 40
- Two Captains, Michael Beeler, p. 18
- Trek Memories, Sue Aram, p. 19
- Spock Speaks, Michael Beeler, pp. 20-21
- El-Aurian Heavy, Michael Beeler, p. 23
- Feature vs. Series, Michael Beeler, pp. 24-25
- The Star Trek Curse. Michael Beeler, p. 26
- John Alonzo, Michael Beeler, p. 27
- Star Trek: Voyager, Dale Kutzera, pp. 28-29
- Beyond Uhura, Sue Uram, p. 31
- Chekov Makes Captain, Sue Uram, pp. 32-33
- Roddenberrt's Legacy, Sue Uram. pp. 34-39
- Keep On Trekkin', Michael Beeler, p. 41
112, Vol 27 #4/5, 1996
DS9 Season 3, VOY Season 1
- Star Trek Voyager, Dale Kutzera, pp. 32-33, 45, 125
- Voyager Guide, Dale Kutzera, pp. 34,40, 47-48, 56, 58, 63, 71, 79, 81
- Filming The Series Pilot, Dale Kutzera, pp. 35-38
Nicole Janeway, Dale Kutzera, p. 39
- Captain Kathryn Janeway, Dale Kutzera, pp. 41-42
- Designing The Starship, Dale Kutzera, pp. 43-46, 125
- Chakotay, Dale Kutzera, pp. 47-48
- Holographic Doctor, Dale Kutzera, pp. 49-50
- Designing The Bridge, Dale Kutzera, pp. 51-53
- Engineer B'Elanna Torres, Dale Kutzera, p. 54
- Special Visual Effects, Dale Kutzera, pp. 55-58
- Tuvok of Vulcan, Dale Kutzera, pp. 59-61
- Lt. Tom Paris, Dale Kutzera, p. 62
- Star Trek The Franchise: 30 Years in Space, Thomas Doherty, pp. 64-66
- Ensign Harry Kim, Dale Kutzera, pp. 67-68
- Piller's Legend, Dale Kutzera, pp. 69-70
- Designing The Title Sequence, Dale Kutzera, pp. 72-75
- Delta Quadrant Aliens, Dale Kutzera, p. 76
- Executive Story Editor, Dale Kutzera, pp. 77-78
- Computer Gaphics Starship, Dale Kutzera, pp. 79-81, 125
- Effects Process, Dale Kutzera, pp. 82-83
- "

Emanations

", Dale Kutzera, pp. 84-85
- Character Makeups, Dale Kutzera, pp. 86-87
- Star Trek Deep Space Nine, Dale Kutzera, pp. 88-89, 91, 93, 101-102, 108-109, 112, 115
- Third Season Guide, Dale Kutzera, pp. 90, 95, 98, 103, 106, 111-112, 114
- Time-Travel Epic, Dale Kutzera, pp. 92-94
- Designing the Defiant, Dale Kutzera, pp. 96-97
- Bajoran Oscar Winner, Dale Kutzera, pp. 99-101
- Changeling Morphs, Dale Kutzera, pp. 104-105, 125
- Klingon Refugee, William Wilson Goodson, Jr., pp. 107-108
- Space Station Dress Code, Mark A. Altman, pp. 109-110
- Makeup, Dale Kutzera, p. 113
118, Vol 27 #11, 1996
TOS, season 1-3/30th anniversary edition:
- Star Trek The 30th Anniversary, Sue Uram, pp. 24, 26-27, 104-111
- Classic Star Trek Episode Guide, Sue Uram, pp. 26-27, 29-31, 33-35, 37-39, 41-42, 44, 46-47, 49-50, 52-53, 55, 57-58, 59-63, 65-77, 79-81, 83-87, 89-91, 93-98, 101-111
- James Doohan, Scotty, Anna Kaplan, pp. 28-31
-George Takei, Sulu, Anna Kaplan, pp. 32-35
- Nichelle Nichols, Uhura, Anna Kaplan, pp. 36-39
- Walter Koenig, Chekov, Anna Kaplan, pp. 40-42
- Directing the Pilot, Robin Brunet, pp. 43-44
- Story Editor D.C. Fontana, Dennis Fischer, pp. 45-47
- Yeoman Janice Rand, Anna L. Kaplan, pp. 48-50
- Scripting "

Amok Time

", Dennis Fischer, p. 51
- Directing William Shatner, Dennis Fischer, pp. 52-53
- Writer Jerry Bixby, Dennis Fischer, pp. 54-55
- Casting the Series, Anna L. Kaplan, pp. 56-63
- Special Visual Effects, Daniel Fiebiger, pp. 64-75
- Trek's Top Ten: "Corbomite Maneuver", p. 76
- Trek's Top Ten: "

Balance of Terror

", p. 77
- Master Craftsman, William Lister Krewson, pp. 78-79
- Trek's Top Ten: "Menagerie", p. 80
- Trek's Top Ten: Space Seed, p. 81
- The Sounds of Space, Anna L. Kaplan, pp. 82-86
- Trek's Top Ten: "

Metamorphosis

", p. 87
- Post-Production Guru, Sue Uram, pp. 88-90
- Trek's Top Ten: "

The Changeling

", p. 91
- Set Decorating, Anna L. Kaplan, pp. 92-95
- Trek's Top Ten: "

The Devil in the Dark

", p. 96
- Trek's Top Ten: "

Amok Time

", p. 97
- Trek's Top Ten: "

The Trouble with Tribbles

", p. 98
- Robert Bloch, p. 99
- Writing "

The Man Trap

", Dennis Fischer, pp. 100-102
- Trek's Top Ten: "

Journey to Babel

", p. 103
- Gene Roddenberry, p. 111
122, Vol 28 #4/5, 1996
DS9 Season 4, VOY Season 2
123, Vol 28 #6, 1996
Star Trek: First Contact
134, Vol 29 #6/7, 1997
DS9 Season 5, VOY Season 3
146, Vol 30 #9/10, 1998
DS9 Season 6, VOY Season 4, Star Trek: Insurrection
148, Vol 30 #12, 1999
Star Trek: Insurrection:
- Star Trek Insurrection, Anna L. Kaplan, pp. 16, 19, 21-22, 27, 29-30
- Brent Spiner, Anna L. Kaplan, p. 18
- F. Murray Abraham, Anna L. Kaplan, pp. 20-21
- Donna Murphy, Anna L. Kaplan, p. 23
- Michael Piller, Anna L. Kaplan, pp. 24-26
- Anthony Zerbe, Anna L. Kaplan, pp. 28-29
- Makeup Design, Anna L. Kaplan, p. 31
- Number One Director, Anna L. Kaplan, pp. 32-33
158, Vol 31 #11, 2000
VOY Season 5:
- Voyager's Trek "

Memorial

", Anna L. Kaplan, pp. 22-23
- Star Trek Voyager, Anna L. Kaplan, pp. 24-25, 27, 31, 35, 38, 43, 47, 51
- My Fair Borg, Anna L.Kaplan, p. 26
- Jeri Ryan, Borg Babe, Anna L. Kaplan, pp. 28-29
- Robert Picardo, Anna L. Kaplan, p. 30
- "

Dark Frontier

", Anna L. Kaplan, pp. 32-34
- Roxann Dawson, Anna L. Kaplan, pp. 36-37
- Tim Russ, Anna L. Kaplan, p. 39
- The Making of "

Timeless

", Anna L. Kaplan, pp. 40-42
- Garrett Wang, Anna L. Kaplan, pp. 44-45
- The Making of "

Equinox

", Anna L. Kaplan, p. 46
- Special Visual Effects, Anna L. Kaplan, pp. 48-50
- Robert Duncan McNeill, Anna L. Kaplan, pp. 52-53
- John Savage, Captain Ransom, Anna L. Kaplan, p. 54
162, Vol 32 #4/5, 2000
DS9 Season 7:
- Star Trek Deep Space Nine, Anna L. Kaplan, pp. 32-34, 38, 42, 47, 50, 55, 60, 63, 67, 74, 79
- Deep Space Nine Season Seven Episode Guide, Anna L. Kaplan, pp. 34, 36, 38, 40, 42, 44, 47-48, 50, 52, 55, 57, 59-60, 63, 67, 69, 71, 73-74, 76, 79, 81-82, 84
- Armin Shimerman, Anna L. Kaplan, pp. 35-37
- Rene Auberjonois, Anna L. Kaplan, pp. 39-41
- Nicole de Boer, Anna L. Kaplan, pp. 43-46
- Klingons at War, Anna L. Kaplan, pp. 48-49
- Book Ends Star Trek Deep Space Nine, Anna L. Kaplan, pp. 51-54
- "

The Siege of AR-558

", Anna L. Kaplan, pp. 56-57
- Nana Visitor & Alexander Siddig, Anna Kaplan, pp. 58-59
- "

It's Only a Paper Moon

", Anna L. Kaplan, pp. 61-62
- "

Chimera

", Anna L. Kaplan, pp. 64-66
- Louise Fletcher, Anna L. Kaplan, pp. 68-69
- Marc Alaimo, Anna L. Kaplan, pp. 70-71
- "

The Emperor's New Cloak

", Anna L. Kaplan, pp. 72-73
- "

Inter Arma Enim Silent Leges

", Anna L. kaplan, pp. 75-76
- Casey Biggs, Anna L. Kaplan, pp. 77-79
- J.G. Hertzler, Anna L. Kaplan, pp. 80-82
- Jeffrey Combs, Anna L. Kaplan, pp. 83-84
- Aron Eisenberg, Anna L. Kaplan, p. 85
- "

What You Leave Behind

", Anna L. Kaplan, pp. 86-91
- Worf Factor, Anna L. Kaplan, pp. 92-95
- The Best of Deep Space Nine, Anna L. Kaplan, pp. 96-101
167, Vol 33 #5, 2001
VOY Season 6, ENT:

"Enterprise", Anna L. Kaplan, pp. 18-19
"Scott Bakula", Gregory L. Norris & Laura A. Van Fleet, pp. 20-21
"The Big Return", Anna L. Kaplan, pp. 22-27, 30-31, 34-39<
"Voyager Season Six Episode Guide", Anna L. Kaplan, pp. 24-27, 30-31, 34-39
"Robert Picardo", Anna L. Kaplan, pp. 28-29
"

Fury

", Anna L. Kaplan, pp. 32-33

169, Vol 34 #1, 2002
VOY Season 7:

"Viewing Voyager", Anna L. Kaplan, pp. 22-27, 30-31
"Kate Mulgrew", Anna L. Kaplan, pp. 28-29
"Voyager Season Seven Episode Guide", Anna L. Kaplan, pp. 32-37, 40-41
"

Workforce

", Anna L. Kaplan, pp. 38-39
"William Shatner", Sue Uram, pp. 42-43
"Eugene Wesley, Roddenberry, Junior", Sue Uram, pp. 44-45

14, Vol 37 #2 (as CFQ), 2005
ENT Season 4:

"The Voyage Home", Jeff Bond, pp. 32-41, 69
External links